When beauty meets business
The beginnings of beauty giant Estée Lauder Companies were modest.  Lauder's magical rise from a poor immigrant child to one of the most successful and wealthy Northern American business women in the 20th century was the result of hard work and a relentless will to succeed.
Let us begin glancing behind the brand by quoting Estée herself:
I have never worked a day in my life without selling. If I believe in something, I sell it and I sell it hard.

Estée Lauder
How did a girl from modest backgrounds successfully establish her own business in 1946 (at just 30 years old!)- at a time when women were struggling to perform even low-level employed jobs?
Estée Lauder was born on July 1, 1906 as Josephine Esther Mentzer – called 'Esty' – in Queens, New York, as a child of Eastern European immigrants. After graduating from high school, she worked in her parents' hardware store, thus taking her first baby steps into the business world.
Tight budget, big dreams
Her uncle was a chemist and he sparked his niece's interest in formulations for ointments and creams. Based on one his recipes, she soon mixed her own face cream in her parents' kitchen. She initially promoted her homemade products at house parties, later also in hotels and holiday resorts.
Since Estée was on a tight marketing budget, she could not afford working with agencies. A simple, yet brilliant idea served as a solution to her problem: she simply filled small sample bottles with her products, which she then handed to her potential customers. Adding free product samples as a means of marketing and promotion is common practice in beauty retail to this day.
In 1953, the freshly minted entrepreneur achieved her first business breakthrough by launching a very simple product: a scented bath oil. It was the birth of Lauder's legendary scent 'Youth Dew'.
Customers perceived the scented bath oil as something utterly luxurious. Why so? Compared to classic perfumes, the bath oil was intended as a personal wellness routine at home, that provided soothing and fragrant relaxation, while at the same time hydrating and nourishing the skin. To date, "Youth Dew" exists as a perfume and body lotion. It is a beauty product of historic importance.
A woman with principles
Estée Lauder was convinced of her products and throughout her career stayed true to her mission: "individual beauty for all women" is the mission statement that, to this day, describes Lauder Companies' fundamental product philosophy. It is equally interesting to observe that Estée Lauder Companies is still family-owned. As of 2020, the Lauder Group owns over 25 brands, including Aramis, Aveda, Bobbi Brown, Clinique, Donna Karan, Darphin, Jo Malone, Kiton, La Mer, MAC, Michael Kors, Tom Ford, and Tommy Hilfiger.
Estée Lauder Companies'  2019 sustainability report contained the mission statement "Our actions are rooted in the Lauder Family values of respect for the individual, uncompromising ethics and integrity, generosity of spirit and fearless persistence." Let us take a closer look at how the brand stays true to their powerful claim by taking the epic 'Youth Dew' product as a case study.
As mentioned earlier, 'Youth Dew' was initially launched as a scented bath oil as early as 1953, with the intention of creating a luxury home product for women.
At that time, scented products like colognes and perfumes were usually purchased as gifts by men to women. Estée pursued a female-centric customer journey by giving women the empowering opportunity to invest in a scented indulgence, hence cutting men out of the purchasing action.
Moreover, with 'Youth Dew', she cleverly combined attributes of both perfume and skincare products at a time in which the innovation of 2-in-1 products was non-existent. Products of this kind were only introduced in the 1980s as 2-in-1 shampoos and conditioner.
The rise of a beauty giant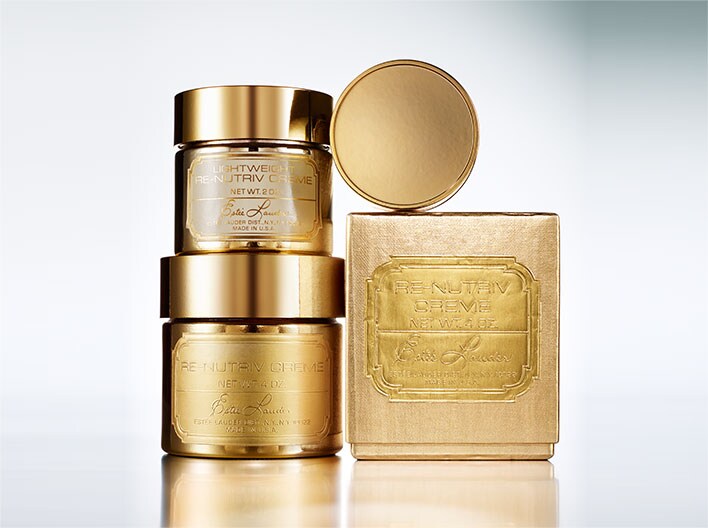 'Youth Dew' is not the only product revolution Estée developed. Another milestone in her remarkable career can be found in an extended customer experience. As mentioned earlier, Lauder's success is rooted in her home-made creams and ointments. In 1946, she launched a product line consisting of only four products: a cleansing oil, a skin lotion, an extra-rich face cream and a cream pack (mask).
She cleverly combined this minimalist product idea with an accompanying skincare routine. Estée invented her very own '3 Minute Beauty' routine that she used for marketing the aforementioned products. Her goal was to show women that a beauty routine can be accomplished within a very short time by using few but high quality skincare products. Lauder's modern skincare routine was intended to not take more than three minutes of her customers' valuable time. The brand continues promoting this routine to this day, as seen in the 'Get Up & Glow' campaign featuring Kendall Jenner.
Since the day of her company's inception, Estée never pursued a passive way of doing business. Whenever an Estée Lauder beauty counter opened at a New York department store, Lauder would personally attend the opening. She would take the opportunity to engage with shop assistants and customers alike, talk to them while standing on an escalator and even striking up casual conversations on the street. During these conversations she would charmingly familiarize people with her '3-minute-beauty-routine'.
Product development was only one aspect of many. Another secret of Lauder's success lies in the proximity to her customers. She kept up checking in on her Lauder counters and never stopped the habit of having conversations with customers. Why did she do that? The feedback obtained from these conversations fed into the improvement of existing and development of new products.
"If you don't sell, it's not the product that's wrong – it's you." Estée Lauder
Long before influencer marketing became common practice, Estée Lauder made use of the magnitude in reach and influence of 1960's celebrities. She successfully recruited actresses and models as brand ambassadors in order to promote her products. In making this strategically smart move, she boosted her reach and market value in one stroke.
Lauder's product design has been timeless and minimalist from the very beginning. The brand to this day stays true to the classical design line. Prestigious high-end cosmetic brands, however, face an ever increasing competition from rising start-ups. A strong next generation leader within the Lauder group is Estée's granddaughter Aerin, who successfully launched her own product line 'Aerin' a few years ago.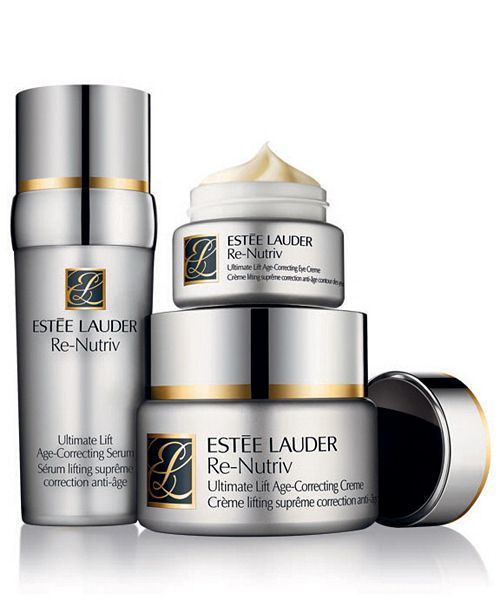 Another interesting detail in ​​product marketing is the fact that Lauder's skincare series "Re-Nutriv" was launched in 1956 and is still part of their current product portfolio. The long existence of some of Estée's original products relies on her customers trusting and relying on formulas and recipes that have continuously been optimized over the past decades. This is a very good example of longevity in an extremely fast-paced market as is the beauty industry.
Estée Lauder and green beauty
As of 2019, Estée Lauder Companies takes sustainability seriously. The firm published their 'Fiscal 2019 Citizenship and Sustainability Report'. In this type of integrative reporting, both financial and sustainability performance are collected and presented in one report. Almost all cosmetic products – natural cosmetics are not excluded from this – contain a critical substance called mica in face powder, eyeshadow and highlighters. In makeup products, mica provides shimmering, glittering effects. The problem with this ingredient is that it is sourced from a specific region in India (the so-called "mica belt") and children are often used in mines to extract this pigment. Estée Lauder works with NGOs and supports these organizations financially in the fight against child labor in India.
Social Responsibility
Lauder funds children's education in the Indian mica belt as part of their CSR activities. The company's idea is that children should receive a solid education instead of mining minerals underground. The sustainability report elaborates on such educational efforts but makes no statement about the extent to which Estée Lauder obtains the ingredient mica itself from child labor to this day. Furthermore, there is no statement on which steps the brand takes to research alternatives to this critical substance.
Beyond that, Estée Lauder Companies has been active in charities for more than 25 years, especially in their well-known campaign to fight breast cancer: the 'Pink Ribbon' fundraiser.
A closer look at the company's CSR priorities (something that CSR experts refer to as 'materiality analysis') reveals that Lauder focuses less on supply chain and human rights, but rather on resource-oriented areas like electricity and emissions, climate protection and waste management, identified as their top 3 sustainability priorities. It is slightly disappointing to observe that transparency regarding ingredients and 'Green Chemistry' are only in sixth place (see diagram below).
Lauder's sustainability strategy
It is generally easier for manufacturing companies to measure performance in energy consumption, climate protection and waste, while issues such as social responsibility and product ingredients are more difficult to measure.
From a CSR expert's point of view, I find it positive that Lauder has dedicated a separate chapter in their report to the critical substance mica. However, I would appreciate it if  supply chain and social responsibility were even higher on the company's green agenda.
Overall, Estée Lauder's sustainability profile appears to be quite positive thus far. A major downside, however, is the their stance on animal testing.
According to the company's website, the brand vowed more than 30 years ago to stop testing on animals. This somewhat vague expression was deliberately chosen because the company is still distributing their products in China. China requires mandatory animal testing from foreign cosmetics producers as a basic condition for sales within the country.
The company apparently does not want to miss out on the wealthy Chinese customers and therefore does not take a stronger stance on their company's website.
Diversity and inclusion
In terms of inclusion, the company has made some progress over the years. Their famous 'Double Wear Foundation' is now available in 56 shades of color.
The 'Double Wear Concealer', on the other hand, is only available in 22 shades. In comparison, Fenty Beauty Concealer offers a total of 50 shades.
When it comes to diversity & inclusion, Estée Lauder is heading in the right direction. Even if powerful newcomers such as Rihanna's ground-breaking makeup brand 'Fenty Beauty' is the clear leader in terms of inclusive makeup shades for people of color, Estée Lauder proves that the brand is responding to today's market demands by integrating darker shades into their liquid foundation portfolio.
However, it seems that the representation of diverse, especially African American, ethnic groups on social media has not been common practise for Estée Lauder in the past. The snippets from Lauder's official Instagram account show that African American models were more prominently integrated into the Instagram feed  as a reaction to the protests of "Black Lives Matter" in 2020.
In view of the power of the hashtag #blacklivesmatter, I notice the company's relatively short-term adaptation of their Instagram content strategy. Note: Estée Lauder is definitely not the only beauty brand to take advantage of a politically driven and very powerful hashtag. There are plenty of other brands that showed little diversity in their feeds prior to the protests.
Conclusion
If Estée Lauder wants to gain traction as a sustainable beauty brand, especially with Generation Z that is strongly oriented towards sustainability, equality and social innovation, the brand must bid farewell to their reactive marketing strategy and – following the spirit of their founder –  pursue sustainable innovations.
I have identified three areas in which Estée Lauder can improve their sustainable business objectives, while staying true to the original values ​​expressed by their founder:
1 Supply chain
Focus on primarily organic and harmless ingredients and withdraw from the Chinese market to aggressively push the "Cruelty Free" agenda forward. If this is not possible: strongly advocate for the Chinese market to stop animal testing.
2 Product innovation
Here too, the primary issue is the supply chain with a focus on conflict minerals such as mica and animal ingredients. Estée Lauder is unlikely to ever become a 100% organic cosmetics brand, but the company should act in the spirit of its founder. As mentioned above, Lauder always sought feedback from her customers. Hence, if customers demand safe ingredients and are willing to spend more money on cruelty free makeup products, the company cannot afford to remain idle.
3 Social media

More regular diversity in the Instagram feed and in advertising campaigns. More multi-ethnic (especially African American) models and brand ambassadors (actresses, influencers, transgender), above all for skincare products and not only as 'quota Africans' for promoting inclusive liquid makeup foundations in darker shades. In addition, more diversity in campaign ads for perfumes and lipsticks as well.
Estée Lauder remains a trusted brand within the luxury beauty industry. In 2026 the company will celebrate their 80th anniversary. This prestigious brand should take advantage of promising opportunities in the areas of sustainability and inclusion to continue to grow and expand sustainably and – as Estée Lauder has expressed in one of her famous quotes – to continue providing confidence that breeds beauty.
If you liked this article, I would be delighted if you leave a comment and share the post with anyone who is interested. Thank you so much!